Preproduction model shown.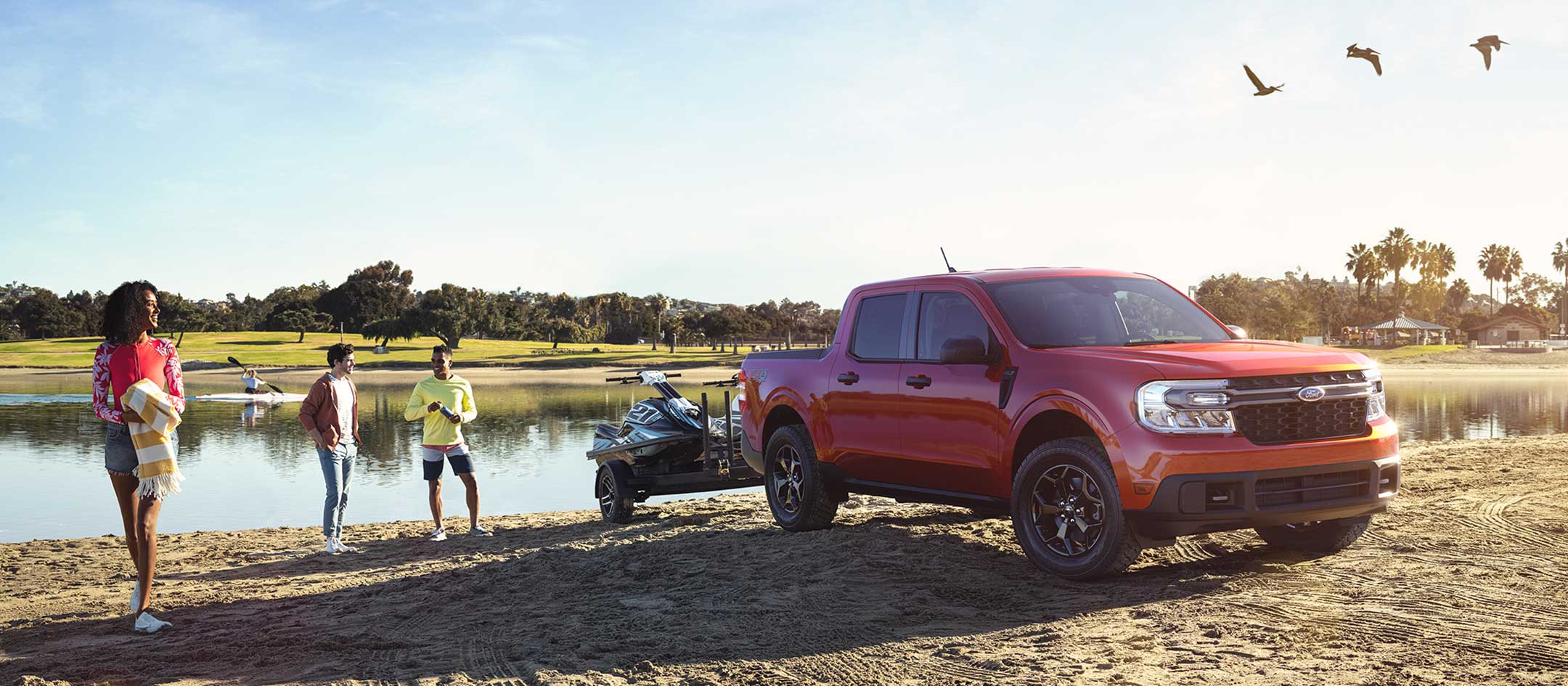 Online Reservation FAQs
What is a reservation?
A reservation lets you select your vehicle and be among the first to order a new Maverick truck from Ford. It is not an actual order and does not guarantee delivery.
What steps are required to complete my reservation?
Go online and select "Reserve Now," fill out the reservation form and submit your request to join the list for a new Maverick truck. A confirmation will display after the form is submitted and an email with be sent to the address in the reservation form.
When can I order my vehicle?
We will help you select and build your Maverick truck. We will also help you agree on pricing and finalize your order for production. The Maverick truck ordering window opens at the beginning of June 2021.
When will my vehicle be delivered?
Maverick truck production and deliveries to Ford Dealers will begin fall 2021. Actual delivery times may vary based on configuration selected, residency and demand. Once your vehicle is scheduled for production, you will receive further notification from us about its status.
Am I buying this vehicle directly from Ford?
No. The purchase agreement will be between you and Corning Ford, not you and Ford Motor Company. A deposit is not required from Ford to submit a reservation.
Take a Bold Approach with the All-New Ford Maverick at Corning Ford
Leaders make a name for themselves by establishing a gold standard, but only innovators know how to adapt while retaining their reputation. The 2022 Ford Maverick achieves this balance by offering a fresh take on the familiar firepower of a Ford truck.
For those who have desired the strength of a Ford pickup packed into a smaller frame, you'll want to learn more about the Ford Maverick at your Ford dealer in Corning.
Compact Performance
The all-new Ford Maverick proves that bigger isn't always better. This full hybrid pickup features plenty of stamina and a leaner build, enabling you to traverse up to an EPA-estimated 40 mpg without stopping.
In addition, this truck can haul up to 4,000 pounds when equipped with the 2.0-liter EcoBoost® engine and 4K Tow Package. Your Chico, CA, business can't afford to slow down, so the Ford Maverick will match your tireless spirit.
Thoughtful Design
Embracing efficiency has never been easier with the design of the 2022 Ford Maverick. You'll be able to store equipment beneath the rear seats and tuck items into door-pocket crevices. Doing more with less is a specialty of this creative pickup.
If you're looking to haul heftier inventory around your Tehama County vineyard, you can organize up to 1,500 pounds of goods in your dependable FlexBed™. There's always enough room when you rely on the adaptable Ford Maverick.
Cutting-Edge Technology
You may find yourself with a hectic schedule at your Red Bluff worksite, so the Ford Maverick makes life easier with a streamlined driving experience. Apple CarPlay® and Android Auto™ allow you to make calls and stay updated on local weather alerts.
To avoid becoming distracted, you can also access the available SYNC® 3 system. This feature lets you perform simple tasks with voice commands, so you can keep your hands on the wheel while completing quick chores throughout the day.
Contact Your Ford Dealer in Corning to Reserve Your 2022 Ford Maverick
The all-new Ford Maverick is a small truck that's sending big waves rippling across the automotive industry, and people are taking notice. Contact Corning Ford to reserve your Ford Maverick, so you can be one of the first to drive innovation in this hybrid truck.
DISCLAIMERS
By completing the reservation process, you are not ordering or purchasing a vehicle. Participation in the program does not guarantee you vehicle delivery. Your reservation does not guarantee a set price for the vehicle.
*2.5L hybrid powertrain. Actual mileage will vary. Final EPA estimated ratings available later in the 2021 calendar year.
** Max payload varies and is based on accessories and vehicle configuration. See label on door jamb for carrying capacity of a specific vehicle.
† Max towing with available 2.0L EcoBoost and 4K Tow Package. Max towing varies based on cargo, vehicle configuration, accessories and number of passengers. EPA-estimated fuel economy, payload and towing are independent attributes and may not be achieved simultaneously.
Apple CarPlay is a trademark of Apple Inc., registered in the U.S. and other countries. Android Auto is a trademark of Google LLC.BANG & OLUFSEN© 2021 and B&O© 2021. BANG & OLUFSEN™ and B&O™ are registered trademarks of Bang & Olufsen Group. Licensed by Harman Becker Automotive Systems Manufacturing Kft. All rights reserved.